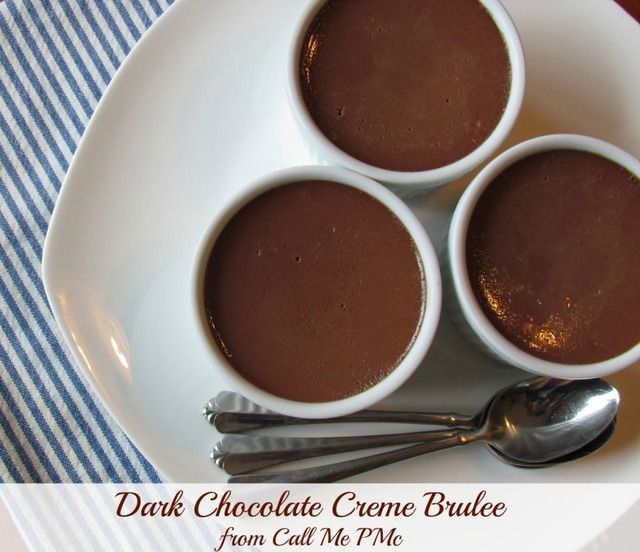 Hello Friends, I'm
Paula
, but my friends call me PMc. I blog at
Call Me PMc
about easy to prepare
recipes
for busy families,
time management
and
workout tips
, and easy
crafts and DIY
projects.
This is my sweet family. They keep me busy. They make me laugh. They drive me crazy at times! I share it all with you at
Call Me PMc
.
A big thank you to Nichi for allowing me to guest post today. I want to share the Dark Chocolate Creme Brulee with you. This would be a great ending to an elegant holiday dinner. It's my husband's absolute favorite dessert and he is not a big dessert eater! At first glance, it looks intimidating to make. Trust me, it's not, but your guests do not have to know, just let them think you slaved in the kitchen for
hours
for them!
Dark Chocolate Creme Brulee
Ingredients:
5 oz bittersweet chocolate, broken into pieces
2 c heavy cream
1/4 c milk
1 tsp expresso powder
6 egg yolks
Juice of 1 orange, about 1/4 cup
1/4 c sugar
1 tsp vanilla
6 T sugar and kitchen blowtorch if you plan to brulee top
Directions:
1. Preheat oven 325 degrees.
2. Place ramekins in a 9x13 inch cake pan.
3. Pour cream in a heavy sauce pan and heat to simmer. Add expresso and broken chocolate. Whisk and watch closely.
4. Juice one orange, add vanilla and egg yolks; whisk all until well incorporated.
5. Temper the egg mixture, then stir in to cream mixture. Whisk until everything is completely combined and smooth.
6. Pour the custard into 6 ramekins (that you have place in a larger pan). Put in the oven then add water to the larger pan careful not to splash any in the chocolate mixture.
7. Bake 30 to 35 minutes in 325 degree oven. Custards will be set around the edges and soft in the center, but the top will change from shiny to matte finish when the custards are cooked.
8. Cool completely, then refrigerate, uncovered until cold.
*If you wish to brulee top, sprinkle sugar evenly over top. (It may help to pick up ramekin and swirl to evenly distribute sugar) Heat with a kitchen torch until caramelized. Brulee just before serving.
I would love for you to come visit and follow via
Twitter
,
Facebook
, or
Pinterest
!